FRANKFORT, KY — Gov. Andy Beshear announced six new regional COVID-19 vaccine sites in Kentucky on Thursday, including one in Trigg County and one in Crittenden County. 
Additionally, the governor announced 10 new Kroger stores and 10 new Walmart stores across the state will be administering vaccines. 
Beshear also announced that visitors will be allowed in some long-term care facilities, allowing people to see their loved ones after lengthy separations because of the pandemic. 
New vaccine sites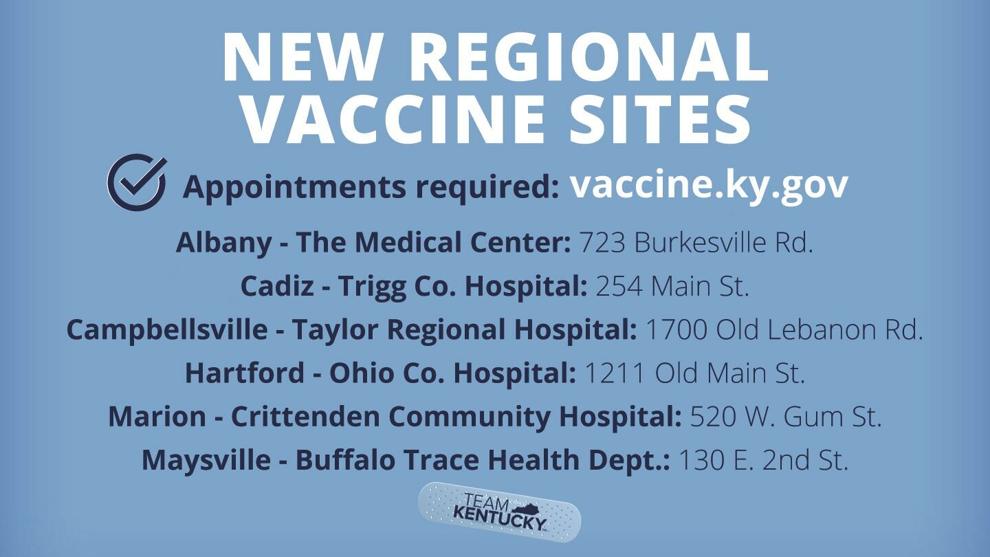 The new regional vaccination sites in the Local 6 area include Trigg County Hospital at 254 Main St. in Cadiz and Crittenden Community Hospital at 520 West Gum St. in Marion. 
Other regional vaccination sites announced Thursday include the Medical Center in Albany, Taylor Regional Hospital in Campbellsville, Ohio County Hospital in Hartford and the Buffalo Trace Health Department in Maysville. 
The new regional sites are expected to open next week, Beshear said during a briefing Thursday afternoon. They will operate by appointment. 
Beshear also announced 10 new Walmart stores that will be providing COVID-19 vaccinations, including the Princeton Walmart at 1500 U.S. 62 West and the Fulton Walmart at 1405 Middle Road. 
Other newly announced Walmart vaccination locations include stores in Alexandria, Ashland, Bardstown, Hanson, Harrodsburg, Leitchfield, Russellville and Somerset.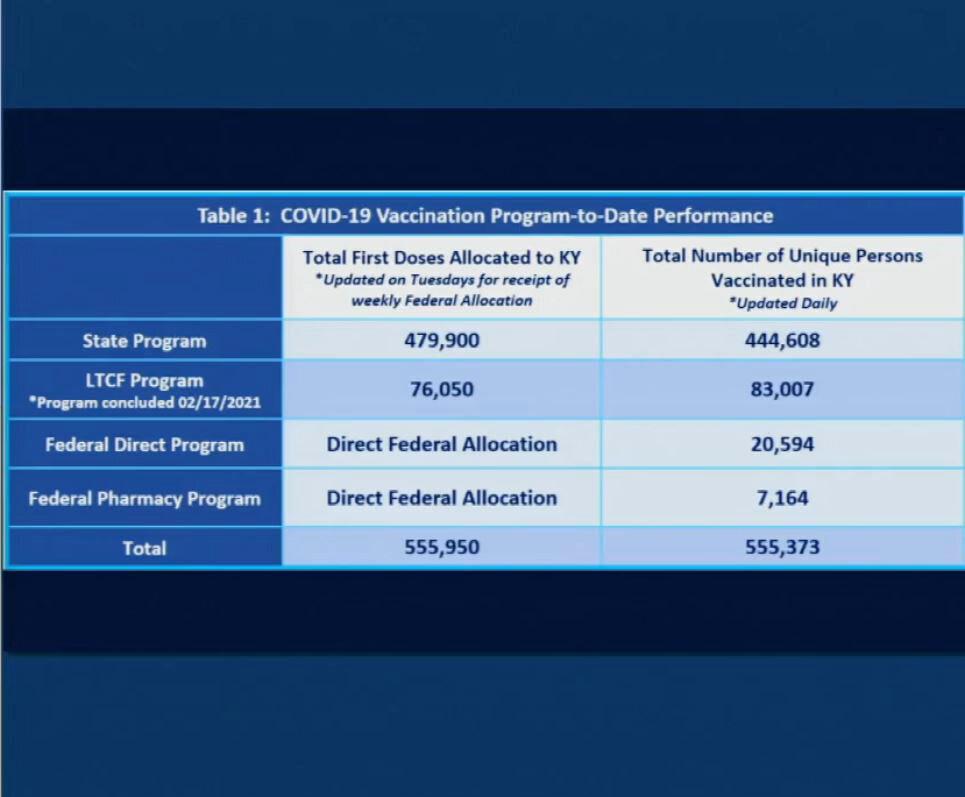 Additionally, Beshear announced 10 new Kroger store vaccine sites, including locations in Pulaski, Hopkins, Oldham, Rowan, Nelson, Montgomery, Jefferson, Boone, Davis and Marion counties. 
Beshear also announced two Federally Qualified Health Centers will provide vaccines: the White House Clinics in McKee and Mt. Vernon. 
The governor said when the new locations open next week, Kentucky will have 291 COVID-19 vaccination locations, including 51 regional sites. 
Regarding doses administered so far, Beshear said Kentucky has been allocated 555,950 first doses so far. He said so far 555,373 people have gotten their first vaccine dose as of Thursday. 
For more information on COVID-19 vaccinations in Kentucky, visit govstatus.egov.com/ky-covid-vaccine.
Download the document below to see the full list of new vaccination sites announced in Kentucky on Thursday. 
Visits to resume in some long-term care facilities 
Beshear on Thursday announced some long-term care facilities in the state will be able to welcome visitors indoors again. 
The governor and Cabinet for Health and Family Services Inspector General Adam Mather said visits will be allowed only at facilities that are not Medicare certified, including assisted living facilities, personal care homes, intermediate care facilities, intellectual and developmental disability facilities, independent living facilities and others. Visits are not yet allowed at facilities offering the highest level of care. Beshear said the state needs guidance from the Centers for Medicare and Medicaid Services before certified facilities can allow visitors again. 
Mather said all visits must be scheduled ahead, and limited either to one person or two people who live in the same household. Visitors will be screened at the door, and they must be able to show that they tested negative for COVID-19 within 72 hours of their visit or show proof of vaccination. Visitors should also continue precautions including wearing masks, practicing good hand hygiene and social distancing.  
Update on COVID-19 cases 
The governor reported 963 new COVID-19 cases in Kentucky on Thursday, and said the state's positivity rate has risen to 7.07%. Beshear said state officials believe fewer asymptomatic people have been tested because of recent snow, ice and dangerously cold temperatures. Beshear encouraged Kentuckians to resume the practice of getting tested regularly once the weather allows. 
Beshear reported 37 additional deaths related to the illness. As of Thursday, 935 Kentuckians are hospitalized with COVID-19, according to the Kentucky Department for Public Health. That includes 260 people in intensive care units and 130 on ventilators. 
To date, Kentucky has had 392,729 COVID-19 cases, including 4,373 deaths. 
More information on COVID-19 vaccines in Kentucky 
To make an appointment to be vaccinated through Kroger, visit kroger.com/CovidVaccine.
To make a vaccine appointment through Walmart, visit Walmart.com/CovidVaccine.
To sign up for a vaccine appointment through Walgreen's, visit walgreens.com/findcare/vaccination/covid-19.
To find out if you are eligible to be vaccinated yet in Kentucky, and to find a regional site near you, visit vaccine.ky.gov.
Download the seven-page document below to see the full list of vaccination sites announced Thursday.