MAYFIELD — The future of a 2,000-plus-acre industrial site in Graves County presently hangs in the balance, being weighed by one side's belief in its regional potential and the other in what its sale could mean for several individual counties.
More than 20 years ago as the United States Enrichment Corporation (USEC) plant in Paducah was preparing to shut down, regional leaders secured federal and state funding that went toward the purchase of more than 2,100 acres of farmland in Graves County for what was to be known as the West Kentucky Megasite. The intended use was to provide a location and attract a large scale industrial employer to the Jackson Purchase.
So far, no one has come to set up shop on the site. Now, seven of the eight counties who are part of the Jackson Purchase Regional Industrial Authority — Ballard, Carlisle, Hickman, Fulton, Calloway, Marshall and McCracken — are considering an option to sell or auction off the land and use the proceeds to fund their own individual economic development projects.
Graves County officials, however, are holding out hope the site — if marketed correctly — can still be used in some way for its original purpose to economically benefit the region.
Either way, the site can only move forward with everyone in agreement of its next step.
"The only way the park is going to work is we have to have a unified voice," Graves County Judge-Executive Jesse Perry said.
Fulton County Judge-Executive Jim Martin said the concept of the megasite, located along and east of U.S. 45 North, was probably a good idea in the 1990s to try and attract a major industry such as an automotive operation. But a lack of infrastructure and workforce supply have been culprits that have not lured any offers to develop the site for a large scale industrial plant.
"That's the reason it's been sitting there for 20 years and nothing has happened," he said. Now, Martin said, the majority of the board believes it can accomplish that original intent by developing jobs in their own individual counties.
Fulton County, he said, recently spent $1 million buying land for economic development and is looking at another $1 million to develop its infrastructure. He said other counties such as Marshall, Hickman and Carlisle are doing the same thing with creating industrial parks.
"We feel we can accomplish the goal of creating jobs but the strategy has shifted from a single site to multiple sites spread throughout the region," Martin added. "That's what's driving our effort to get the authority to dispose of the regional site and take that revenue and disseminate that to the counties where we have a better chance of creating jobs in the region."
Graves County's leaders, however, are firm the site can potentially bring good jobs to the region but needs to be managed and marketed properly. Brent Shultz, who represents Graves County on the Regional Industrial Authority board, said he doesn't believe it "has been given a fair shake the last several years." Instead, he said the authority's chairman, Mark Manning, has been building public opinion to sell the park and attempt to divide the money between the eight industrial authority counties.
"But even that plan has issues because there are bonds that have to be repaid to the state and money repaid to other organizations that would absorb much of the proceeds," Shultz added.
He said the site has not had a director in several years, has no signage, no active website, does not actively seek projects or respond to RFPs (requests for proposals), and doesn't have a plan to promote or improve the site.
"That's not marketing an industrial park, which is the sole purpose of the board," Shultz said. "And the problem is the votes are not there for Graves County to make a change."
"Our board representative has stressed that we need to be pushing the park," Perry added. "Let's not call it a stranded asset. We've got a diamond in the rough."
According to an Aug. 20, 2017 article in The Mayfield Messenger, the industrial authority unanimously went with a "swing for the fences" approach to try and attract Japanese automakers Toyota or Mazda to build a planned $1.6 billion facility at the regional megasite by offering it "free and clear." Five months later, the automaker announced its plan to build in Huntsville, Alabama.
Manning, who is the president of Murray-Calloway County Economic Development Corporation, has noted issues with the megasite property which he said makes it difficult to market. They include its north and south tract areas' hourglass-shaped configuration, 40% of the site being in a flood plain, proximity to a seismic zone, and lack of infrastructure.
Chicago commercial real estate company Jones Lang LaSalle was brought in to review the site and ranked it last among other similar industrial sites across the South. But Perry and Shultz contend that review used old numbers when looking at infrastructure costs for the site. Perry said possible options existed to provide needed infrastructure for the northern portion of the site.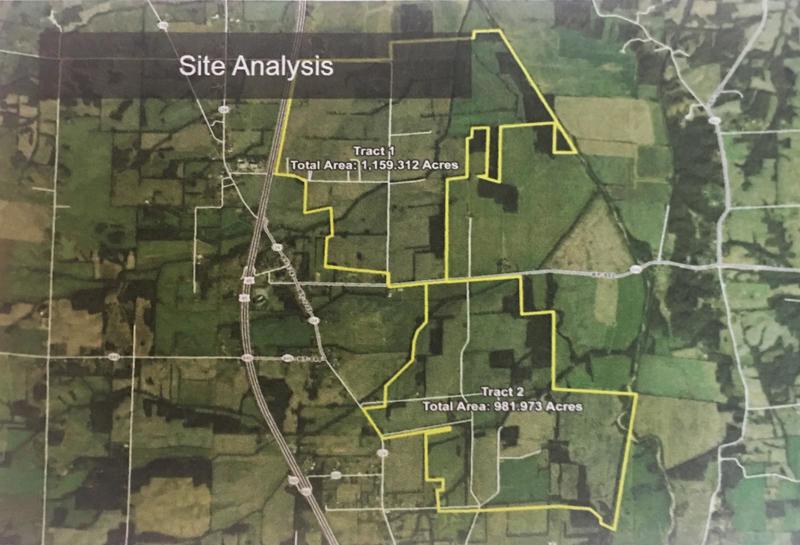 "We ended up getting all this infrastructure costs laid out and it was a lot cheaper than what the board thought and even the engineers," Perry said. "There were a lot more people willing to come to the table to help make something come together."
"As in any parcel of land, there's some challenges but there are some positives and opportunities; the fact that it is owned by a regional authority," Shultz added. "So many tracts, when they go to projects and they're submitted to consultants, they have partial options or no options or they're looking at extremely high costs to purchase the land, where this land is already owned and can be offered at no cost.
"That many contiguous acres are an asset that we could likely never replace once gone."
Manning also made note of some other positives, such as labor cost and quality, utility costs and competitive taxes. But he added that with current deed restrictions on the site, "you're only supposed to sell to someone who will take the whole site. That's not going to happen."
Martin said deed restrictions on selling the land could be amended to sell the whole site or portions of the property. "But it requires an agreement from all the parties — the economic development cabinet, KEDFA (Kentucky Economic Development Finance Authority) board, Graves County Fiscal Court and the board of directors of the regional park," he said. "They could agree to change those restricted covenants to eliminate them. And all those parties are in agreement to amend those except Graves County."
If the Purchase Area Regional Industrial Authority dissolved under the current covenants, the assets would revert back to Graves County. Martin said if they were amended and the land sold or auctioned, the money could be dispersed among the eight Purchase counties for economic development projects that he contends would still benefit the region.
Manning said Graves County could use their portion of money for spec buildings, property or other plans.
"They could use it as an inducement with a company they're recruiting," he said. "Basically it's the same. It's just used at a county level than at a regional level."
Martin said if the regional industrial board continues as is, nothing can be done with the land. "If we disseminate the money, we accomplish the same thing, just the strategy has changed," he said. "If we don't agree, then that restriction stays on that land until Gabriel blows his horn."
Shultz said he looks forward to having a meeting with Manning in an effort to look for common ground and formulate a plan, perhaps to focus on actively managing, marketing and potentially developing a prime section of the site.
"I'd like to sit down and talk through our differences in opinions to see if there is a compromise where all the counties walk away and feel like there's a win there," Shultz said. "These relationships between the counties are so important. In the end, everyone involved has the best for their county in mind, but sometimes regionalism is not one that's being put in the forefront."