It's been a long wait for Mayfield resident Jim Douglas, who returned home from the hospital Wednesday, after being rescued last month from the debris of the destroyed Mayfield Consumer Products candle factory.
The devastating, historic Dec. 10 tornado cut a path of destruction through Graves County and other parts of western Kentucky, and the candle factory — where Douglas worked as a housekeeper/janitor — was a top focus of search and rescue efforts in the tornado's immediate aftermath. Multiple people died in the collapse or later succumbed to their injuries.
"I never got knocked out or anything like that. So, I was awake for the whole time, but the debris slowly started to drop me down, till I was actually — both of my knees and my chest and my head were on the ground," he told The Sun. "But like, one arm and one leg was twisted like up in the wreckage, and the other leg was on the ground."
Douglas remembers people walking on the debris above him after the collapse, putting pressure on him. He said a team leader, Shannon Garza, would alert people about him, and credits her as "more than likely" saving his life.
"My right arm — I could move a little bit, and that's when the people were walking on the debris above me," he said. "They were crushing me, so I couldn't breathe — so I slide my arm under my chest and just push a little bit, so I could breathe."
He also described the rescue efforts by people who responded to the scene. It took equipment, including saws, to cut the factory debris around him.
"They were very meticulous and calculating with every move they were making, and they actually freed me, and they didn't see a way to get me out and one of the guys said he saw me through, what I believe was a glass door, and they yelled at me, 'James, close your eyes as tight as you can' and they busted that glass," said Douglas, who recalled being pulled out, seeing lots of people, and being taken to the triage area.
Douglas said he was at Baptist Health Paducah for a little more than a week, and later went to Mercy Health-Lourdes Hospital. He was discharged Wednesday afternoon from Lourdes, after spending more than two weeks in the inpatient rehabilitation unit. He received crush injuries in the collapse (such as damage to muscles and nerves), but had no broken bones.
Now, approaching one month after the tornado, Douglas and several Mercy Health occupational therapy and physical therapy staff celebrated his discharge with hugs and waves. Before his departure, Douglas expressed excitement for spending time with his sons and seeing his dog, Clyde.
Hospital officials said Douglas has been working to regain movement in his legs and one arm. The staff indicated he's made "tremendous progress, helped in no small part by his positive attitude." He will be continuing physical therapy closer to home.
His Mayfield home was spared by the tornado, and Douglas said he hopes the state and federal governments don't forget about the community.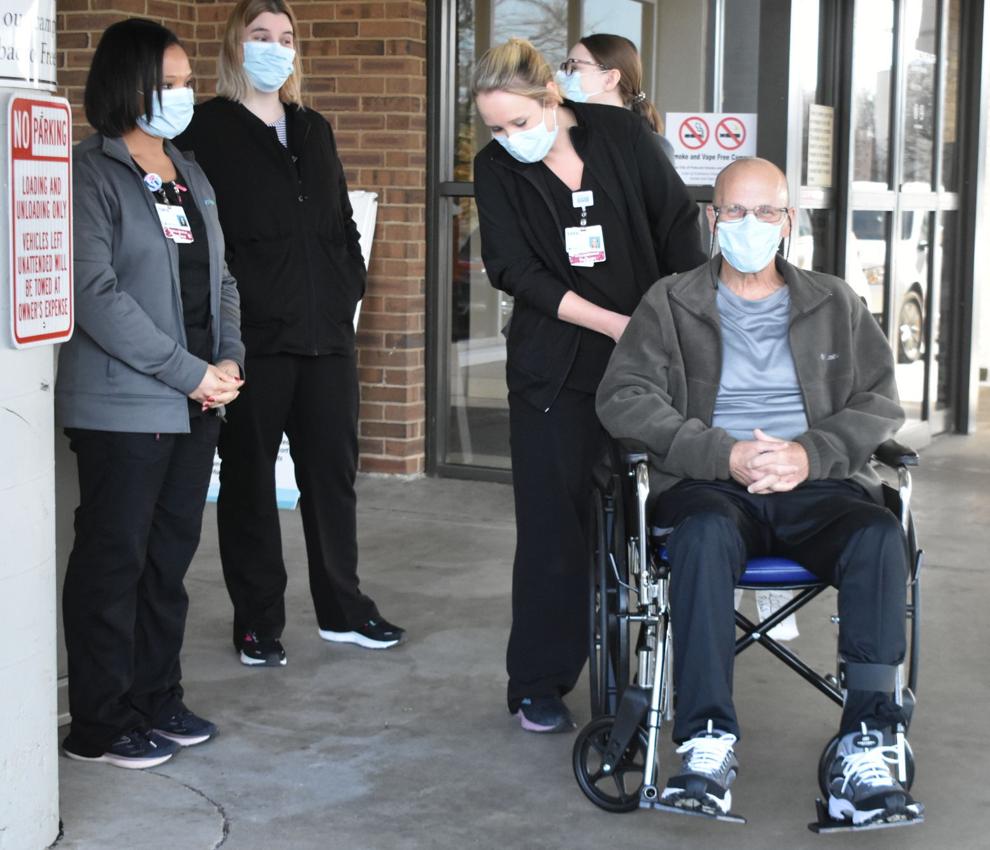 "We had a nice old-fashioned, laid back town and I don't want everybody to go away. I want our town to rebuild and I'm hoping that the federal government and Kentucky somehow can help out," he said.
"A lot of the people that lost their homes and stuff — they're not wealthy people and I know some didn't have homeowner's insurance, and I just — I really hope that government steps up and helps these people out."
Douglas also expressed great appreciation for all the first responders and all the volunteers, who he noted "say they're not heroes, but they are."
"Same thing with all the medical staff that helped patients in treatment and recovery — just big props to them. I appreciate it," he said. "My heart goes out to the people of Mayfield that have lost family members and lost their homes."
Follow Kelly Farrell on Twitter, @KellyAFarrell11